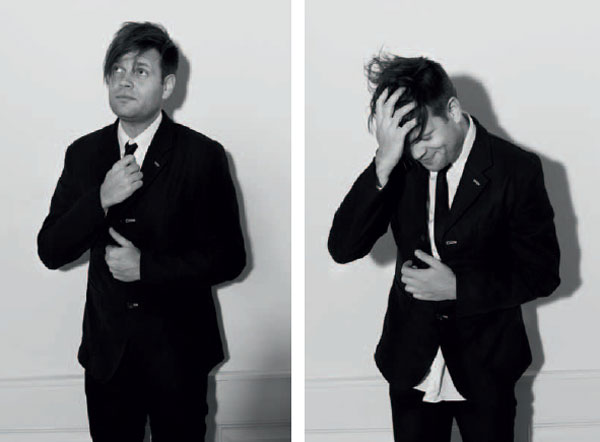 Interview: VANGELIS KAMARAKIS/ Photography: NOAM GRIEGST
Things have definitely been exciting during the last years in the world of Anders Trentemøller. The Danish producer that emerged as one of the most promising dance music producers/ remixers around the middle of the last decade, first managed to make it to the heart (ανδ decks) of techno/electro/ minimal djs with his pure electronic releases. In 2006 Anders took the giant step forward with his album 'Last Resort'. His sound at the time, coupled with an exciting live set up that comprised of several organic parts, secured him headlining slots at some of the biggest festivals in Europe and established him as one of the major crossover success stories of the 00s . Just a few weeks ago, Trentemøller has returned with his new album 'Into the great wide yonder' . With this release the artist from Copenhagen takes another major shift in his sound, that might disappoint some of his earlier fans but might also extend his fan base to new audiences. One thing is certain: in Anders Trentemøller's mind, putting out the kind of music he really wants to produce comes first and he is not afraid to take big risks when it comes to that. OZON magazine talked with Anders regarding his new album, Iceland and the emblematic band Suicide and its effect on his music.
Can you tell us a little bit about your new album 'Into The Great White Yonder', which will be released at the end of the month?
This is my second studio album. The first one was the 'Last Resort', which sounds quite different compared to 'Into The Great White Yonder'. Back then I was working with more electronic sound and this time I was into a more analogue, dusty and trashy sound. I wanted it to be a little bit darker. For this album I played a lot of the instruments myself, so the sound of the album is very different, but with the same Trentemøller sound I hope.

Where did you draw your inspiration from? How is your sound evolving in this album?
It most probably has to do with my visits in Iceland during the past year. What I really loved about Iceland is that you get the feeling that you are very near to nature and the scenery is so dramatic. Weather changes several times during one day, so it can be sun and suddenly storm with a lot of rain and then the sun comes back. I tried to put those contrasts and clashes into my music. In a way it is something that has always inspired me also when I did the more 'clubby' staff.
You are one of the few electronic artists to have emerged in the last five-six years that have managed to have a more crossover appeal, although your first releases were more straight forward electronic.
For me, it is part of a natural development because I was playing in several rock bands before starting making electronic music. So it is just natural to use my musical background in playing instruments. I missed that in a way when I only made electronic music. Everything was programmed in the computer and I really wanted this album to be a little bit more organic. So I think that it makes sense that I use a more musical background. I also have a lot of musicians that I play with live that also give feedback and ideas to me. When I did the album I was doing it on my own and it is a very lonely process to sit with your computer every night and work, so suddenly going out with the band gives me something extra.
Do you steel feel part of the greater electronic/dance scene, or do you think that you have moved to a bigger, wider playground?
Maybe I think I am going the other way because there are more people that are into the more club/electronic sound. Maybe this album will not sell as much as the previous one and for me it is not that important because I am making music for my own pleasure first. Of course it is great and I am very grateful to people that are buying my music, but maybe this album demands a little bit more of the listener and I think it can be one of this albums that you should hear three or four times before you can feel it growing.
So nowadays what kind of music do you listen to at home ?
I am a big music lover so listen to a lot of different kinds of music from folk, to jazz, to rock music. But I think that a listen to less electronic music than I did earlier.

Any favourite albums you keep listening to again and again in 2010?
I think that the new LCD Soundsystem album is really great. Just recently, I rediscovered the first Suicide album. I really love their sound and they were a big inspiration for me for this album. It was one of the first acts, that sounded so cool, even without guitars. They were just using rhythm boxes and old crappy synths.
Suicide seem to be in fashion again, having been sampled for the new M.I.A. track and all..
That single. I don't really like. I don't think that she is using Suicide in a great way. She is just looping one sample from Suicide and she is putting some vocals over it. For me using such a great track and not going more artistic about is actually 'blaspheme' (laughing) but anyway, everybody has his own taste.
Any plans about touring?
In October we are going on this big tour. I really hope we can make it to Athens. We played there once and I had an amazing time (Note : 2007). Such a great country. I am really crossing my fingers that we can make it again.
'Into The Great White Yonder' is released in Greece by Klik Records.
Link: trentemoeller